Well, howdy-ho! My kids LOVE, like L.O.V.E. art. I, on the other hand, cringe at the mess involved. I was intrigued though, when I heard of a non-messy, no water needed, dries in 90 seconds, roll on paint!
Do I want to review it?
YES!!!! Our family got to review the
Kwik Stix 12 pk
from
The Pencil Grip, Inc.
and let me just say, we ARE ALL LOVING these paints!
(We also got a
pencil grip
for free to use! I liked it so much I ordered a pack!)
We love these painting sticks so much that we have a GIVEAWAY and a CRAFT for you at the end of this post! But first, you need to know why we are so excited about these things over here!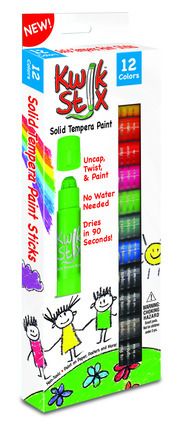 Kwik Stix
are a solid tempera paint that come in a tube much like a glue stick. They are washable, non-staining, easy to use, and mess-less. They leave a clean, no smear finish that is dry in 90 seconds or less. To use them, you literally take the cap off, twist up if you need too, and start creating your masterpiece!
Heres more =)
My kids started calling these "paint crayons" which I think is a pretty accurate description of them. The paint tube is like a glue stick. So if you need more "paint" you twist up. Then use them just like you would an over sized crayon. They feel kind of like a crayon and a chapstick had a baby. They roll on smooth and easily. I guess, like a dry paint (is there such a thing?), dry in several blinks of the eye, don't run, smear, or seep. In short. They are amazing!
The
Kwik Stix 12 pk
come with a great variety of colors. The colors are bright and bold. We love the way they look! The creators,
The Pencil Grip, Inc.
, say it leaves a "paint like finish", it's not quite paint like, in my opinion. I am not really sure what it is. It leaves a nice finish but it has almost a soft, textured look.
Using it:
My kids have been using these on just about everything! The "paint" goes on easily no matter the surface! I was TOTALLY IMPRESSED that they could be used in coloring books with no "bleeding" onto the underside and no "wet-ness" either.
It is easy for the younger kids to do on their own. There is no frustration in using these and they are enjoyable to handle and create with.
BIG KIDS LIKE IT TOO! My older kids loved using them. My 13 year old daughter said that they are one of her favorites now for art because the colors are beautiful and they are great for large "zentangle" designs.
All of my kids have enjoyed using them in their homeschool journals and large painting papers as well. They have a plethora of painted rocks, sticks, and paper plate masks around here too ;)
I LOVE THESE THINGS SO MUCH that I bought the mega huge pack off amazon for the homeschool co-op I run. We have used them on several occasions in art class with multiple ages and stages of kids. They are so fun for the kids to use and so easy!!! I love that the whole clean up process is "put the lid on and put it away". The fantastic masterpieces the kids create are my favorite but the easy clean-up is a close second ;) No water, no paint brushes, no pallets to clean. Super quick and clean!
PRO's and CON's:
Pro's are abundant!
easy to use
no mess
bright colors
lasts for a really long time
dry's in 90 seconds
doesn't bleed
doesn't run
doesn't smear
can be used on practically every surface
all kids like them
fun!
Con's (if there really is any)
The only one I could think of is that if you wanted it to have a true "paint" look, this is close but not exact. If the child has painted pretty thickly then is does look super close to regular tempera paint, if its a lighter coat then you see more of the "texture".
NOW FOR THAT GIVE AWAY!!
The Pencil Grip, Inc.
is being very generous and have a a
Kwik Stix 12 pk
for me to give TO YOU!!! Wanna win? Of course you do! Share this post on social media, #kwikstix, and comment here on the blog. In one week, on 5/10, I will draw a name and we will have a winner! Your
Kwik Stix 12 pk
will be shipped directly to you from The Pencil Grip, Inc. =)
IN THE MEANTIME:
Click on the links below to find out additional information about Kwik Stix.
AND THE CRAFT:
Personalized Mother's Day
Balloons & Cards
How To:
Personalizing Balloons
Using an inflated balloon and
Kwik Stix
no-mess tempera paints. They dry in 90 seconds. Write your personalized message. Use phrases, names and draw pictures.
Wait 90 seconds for the balloon to dry.
After it has dried, decorate the back of the balloon with the same design or something different.
Add A Card
Pair your balloons with a hand painted card.
The easiest way to make a card is to fold a piece of 8 ½" x 11" paper and decorate it. You can match the card to the balloons for an original gift for mom.
Kwik Stix
are available on
Amazon.com
in a variety of colors. These balloons were made using a combination of assorted, neon and metalix colors.
Here's what you'll need:
ü
White Mylar inflated balloons
The total time to do this complete craft will depend on how many balloons you make and the intricacy of the design.
Tips for a Successful Project:
Ø
Press lightly on the Kwik Stix when painting. It will give you more paint and richer color in one application. Depending on the material of the balloon, you may need to apply multiple coats. But remember, the trick is not to press hard.
Ø
Allow each side of the balloon to dry before continuing to paint.
Ø
Don't write too far over to the edge. Keep your words centered so they are easily read after the balloon is inflated.
Ø
You can also paint on uninflated balloons and inflate them later. This is great for party prep or a special group occasion. The paint will not spot or look any less colorful when the balloons are inflated.
And that's all there is to it!