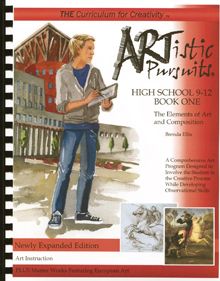 My oldest daughter is a VERY TALENTED artist and I love being able to find things to help her hone in on her skills! I have been very interested in
ARTistic Pursuits Inc
for quite sometime but wasn't sure if it would be something she'd liked. I was very excited when I found out that we would get to review the
HIGH SCHOOL 9-12 BOOK ONE
from
ARTistic Pursuits Inc
.
One of the things that always drew me to
ARTistic Pursuits Inc
. was the fact that they combined art history with art lessons. This makes the curriculum so much more than just art instruction! I decided that all three of my older kids would participate in this review. That way you would get the perspective of an advanced artist and two beginners =)
First Things First:
ART SUPPLIES:
You are responsible to supply these- they do not come with the program. However most of them are very basic things that one would have anyway. Everything else can be purchased reasonably from a local store or AMAZON.
TIME:
It is suggested that you do 2 classes per week x 1 hour for each classes. THIS IS DO-ABLE!
The book will last 36 weeks, which is one school year.
You can change this schedule, of course, to fit your family's needs. The one thing I would suggest though, is that you have your student finish their project that day. It can be hard to set it down and then come back to it and still have all the instruction fresh in their mind for application.
GETTING STARTED:
This program is just a book. There are no DVD's or online video's to look at (which was fine).
At the beginning of the book there is a note for parents and then another note for students. Just a little "before you start" that gives a little over view.
The book is written FOR STUDENTS (which I love!) and so the wording throughout the book is for them. There is a pleasant rhythm to the wording and it reads clearly and enjoyably.
This is a SELF-GUIDED program and I was not needed to provide any formal instruction! (Loved this too!)
Once the student has read the note to them and collected all their art supplies, they are ready to begin!
HOW IT WORKS:
Each lesson starts out with an overview of what the student will learning in that lesson, complete with a "try this" art exercise.
You compare, discuss, appreciate, and consider art that shows these skills and elements.
Then there is an art history lesson where they talk about famous artist's and their works.
Lastly, there is a follow up lesson with a little more technique instruction added in.
USING IT IN MY HOME:
Like I said earlier, my three oldest kids worked on this book together over the past couple months. They have done a dozen projects and have enjoyed either all or parts of the program. They have had some frustrations too. It's been a true mixed review from them!
We set aside 2x a week for them to be able to "art it up". They would do the art history lesson together and then work on their projects seperately, but at the same time. Here are their thoughts and some of their projects!
JO14b: Beginner Artist:
"I thought that the art program was pretty fun. There was some art lessons that were a little hard but other than that it was fine. I would recommend the art book to a person who is just starting to learn art or who has done art for a while, it works for both.
The reason why I liked it in some parts is because I got to use some creativity with some of the pictures and I liked shading, it was fun.
I thought that the teaching was very helpful to me and after I read the directions I knew what to do and how to do it. The art history lessons were pretty interesting too. There wasn't too much information and I liked that things were in blocks and sections. It made it not seem overwhelming.
My art projects turned out good and I did feel like I got better as I did more projects. We would read the lesson as a group, taking turns with the reading. Then we would work on the art on our owns. My favorite project was probably the dragon from Lesson #4 "
H15G: Beginning Artist:
"Well.... Okay, I liked the art history parts a lot. I enjoyed learning about the different artist and looking at how the lesson applied to the art that was being featured.
I didn't really like the art instruction though. Some parts of it were fun, but I didn't really find myself learning any technique. Basically they just told you what to do, and not how to do it. Some of the assignments were enjoyable, but a lot of them were annoying because I didn't know how to do anything. I found myself getting frustrated and having to ask my older sister how to do things.
I would only recommend this program for more experienced artist who already know technique and just want to do it for art inspiration and a quick history lesson. For a beginning artist though, especially one that does not have a natural knack for art, I would not recommend it at all."
F16.7g: ADVANCED ARTIST
"I have a mixed opinion about this curriculum. In regards to the historical teaching portion, I liked it very much! I thought it was interesting, informative, and I appreciated the fact that it taught about the origin of the techniques, since many curriculum's don't. I enjoyed learning about the different artist and I think they did a great job tying in the featured artist's artwork into the overall lesson.
However, when it came to the instruction part, I felt like it was lacking quite a bit of detail. Minimum instruction is given in the actual art lesson. Being it that I have art experience, I really wanted a little more instruction than what was laid out. At first, I thought maybe I was just being too critical because I know the basics but I saw my brother and sister struggle with the lack of clear and detailed art instruction too, so I know it wasn't just me.
The lack of detailed art technique did have one benefit, this aspect gave freedom to the artist themselves,to just kind of do it the way they wanted/interpreted the instructions. Each of our pictures came our great and were unique to us. Still, overall though, the art lesson had me at a bit of a loss when it came to knowing exactly what I was supposed to be doing.
I didn't learn any new techniques and relied on the knowledge and skills I already had in order to best complete each lesson.
In addition to this, what instruction was given wasn't always adequate, nor was it very sound. For instance in Unit One: Lesson Two, on page 8, the student was given instruction to darken portions of their drawing by
pressing harder
onto the paper. I was actually quite shocked by the fact that this was instructed because it is common knowledge that pressing harder on paper flattens out the texture of it and if a mistake is made while using this technique, it will be quite impossible to fully erase it. So the lack of technical instruction and some bad techniques being taught left me
very disappointing.
Positives though were present! I was actually very impressed by the variety of art history technique mentioned, art variety, style, and mediums that were used. I have never quite seen an art book that focuses on such an array of aspects in the art world, and thought that this particular feature was very satisfying (and I have read A LOT of art books!).
I thought their overall concept of trying to tie in so many different elements of art (history/vocabulary/skill) into one curriculum is a fantastic idea. The concept was clear and the art instruction they did have was not wordy but simple to follow.
If I were to recommend this to anyone, I would recommend it to kids/teens that tend to get overwhelmed with tons of instruction and just want more of an
art experience.
Or anyone wanting to do art history with some do-it-yourself applications involved.
In conclusion, I think the idea and aim that the curriculum has is phenomenal; I just don't think it was executed very well. So for the serious art student, this would not be the best choice but for a beginner that just wants to learn some things, it's great!"
MY THOUGHTS:
Well, I was a little sad that they didn't like it more. I have been eyeing this program for soooo long that I had really high expectations. I love the concept of this art curriculum and really wanted it to be a "one-hit wonder".
We have used other at-home art curriculum's so, not only am I well acquainted with this area, but I know my kids know what they are talking about when it comes to this review as well. In the end, we all had positives and negatives to say about it but would still recommend the program over-all.
I hope to maybe have the opportunity to try one of the younger programs in the future as I think this would probably work great for a younger age group that doesn't need so much art technique worked in but would still benefit from the history lesson parts. For my older kids, something with better art instruction is definitely needed.
There are things I did really like with this program though. I liked that they could do it without me and that they had something to do together. I also really liked the art history that was incorporated (we all loved that!). I also appreciated the way the book was put together. It was clear and easy to read/intake information.
My kids did some amazing art while reviewing this program! It was a great experience for them and they learned a lot along the way as well. Over-all, it was a win!
Check out ARTistic Pursuits Inc.: