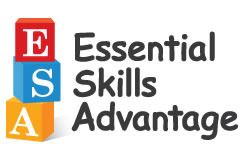 Over the past couple months, we had the chance to review the
Complete Home Learning
Suite
from
Essential Skills Advantage
.
This is a
supplemental, computer based curriculum program for all core subjects, for children in k-6th!
Over 14,000 online lessons for grades K-6

Reading, Language, and Spelling activities

Math

Science

Geography

Interactive

Grades

Charts

Record Keeping
So, you sign up, you get an account and you make one for whichever children you will be having use it. I had A10b and J9b using it. Both of them have used all of the other online learning (and specifically reading) programs we have had the opportunity to review and then some, and both boys are able to give great feedback!
Upon investigating this program prior to reviewing, I really liked that the program encompassed more than just reading. Having the other subjects makes for more well rounded supplemental work in all areas and gives extra areas where both boys can work on reading skills but not as a reading program. (for those of you wondering why I have a 9 and 10 year old still working on reading, it is because both have minor dyslexia tendencies and are extremely right brained- that's the short answer).
We got their accounts set up and then.... well then we were all kind of at a loss. This was just not the program for us and I almost feel bad that I don't have a more glowing review. So, I should probably state that we are very use to a certain easy approach to online or digital programs. Here it is:
log in

programs puts you where you should be

you do that lesson

it saves your stuff

re-peat
Anything that doesn't really function like that, we are kind a like, "oh heck-no tech-no"! We just really like things very streamlined. This was not like that at all.
Everytime my boys logged in they had to chose a subject, grade and/or program. After picking all of those, you have more menu's, and more choices, and more clicking. My boy's had no clue "what was supposed to come next". It was more of a "choose what you want" but that proved to be problematic. Plus! They might be at a 4th grade level in one part of LA but maybe a 2nd with another part. This program had no type of systematic learning scale. This made my boys feel very frustrated.
I wish I could have plugged in their settings and where I wanted them so that it was simple but there was no way to do that so each and everytime you had to go through all the pointing, clicking, and choosing.
A10 working on spelling.
The material was presented in a very bland and "computer-ish way". The voice used did not sound like a regular person but more like a guy "siri". Very..... cold and computer-y even though it was a real human voice. Also, the recording of the talking was very scratchy, or airy-like. Like a home recording on a cassette tape! Yup, that's what it reminds me of!
There was no real teaching! I am assuming this is because it is a "supplemental program" designed originally for public schools, regardless, a brief over-view of the skill would have been nice.
I was very surprised that there was not more explanation for the lessons and that even down on the K-3rd level a lot of the material was presented as "read this and choose the answer".
Now, I realize that my 2 middle boys are not strong in reading skills (A10 reads fluently at a 6th grade level but content and length wear him out. J9 reads fluently at about 2nd grade but also sturggles with content and length) BUT, even for a normally literate K-3rd grader, I could see some, if not most of them, being very frustrated; especially the younger ones.
For instance: In the Kindy Program there is a "Books and More" section. The very first thing they show you is a
cartoon-ish picture of a book with details like the author, illustrator, etc. and "The Voice" tells you to read the question and choose an answer. I have included a picture so you can see the page. My kids would have had a VERY hard time with this. Even my daughter who was reading at 3 1/2 would have had a hard time with the word "picture".
Maybe I have had too many dyslexic tendency kids in a row, but that still seems a bit much for kindergarten! Maybe it's me though, maybe it's me...
I was also a little muffed by the fact that the program boast the other subjects but in science and geography there was not much material and, again, little-to-no teaching of the material. It was just questions and answers. If you did not cover that material yet, your kids would be at a loss.
But even at that, this program only had K-3rd for science and 4-6th for geo. Not a lot of flexibility there.
What I wanted:
I wanted them to start the program, have the
system figure out where they were and then peg them in.
A10 is not impressed.
This can at least be done with LA and Math. I think Sci and Geo probably has more of a "start and finish" kind of a thing, maybe different content per grade or something. I will say though that once you complete something, it does show that you have done that lesson and there is good record keeping for you to look it. My problem was that they didn't build off each other, it was all so... random.
J9 looking VERY overwhelmed. He was asked to read all
of that and decide which things were "living". This was in the
3rd grade level. J9 has minor dyslexia and gets overwhelmed
when there is a lot of reading to do.
I gotta give it to my two boys, though, they plugged away despite the fact that they really did not like the program at all. They did it because it was required for this review but they did not have fun doing it. I actually felt really bad that I needed them to continue to use the program despite the fact that none of us were liking it. It was a good lesson for them in character, if not anything else.
What can I say that is nice?
Well..... I think if you are a public schooler that this would most likely work better. It's all supplemental and would most likely align with the schools wants/expectations.
J9 doing math. He liked the math alright but then again he
is far above grade level in math.
I did poke around at the levels below my boys in order to see if they were more systematic. I thought the reading program was ok. The graphics were nice enough. But, I wouldn't choose it over another program that we use and love.
Okay, I DID LIKE the record keeping. I am primarily an audio learner and secondarily a visual learner. I loved being able to click into the parental control and see the progress report. In one easy sweep of the eye I knew what they had done, succeeded or failed at, and what day/time they worked in the program. Very nice!