Recently I was given a
Lifetime Membership
from
NotebookingPages.com
to review. I was pretty interested in this opportunity when I heard about it because we already do a lot of our homeschooling with journal pages and these note booking pages are so similar in theory and application. Using note booking, or journal like pages, in your homeschool is a great way to make learning more meaningful to your learners!
What is NotebookingPages.com?
Python pages were a big hit!
This is a website that creates and collects thousands of notebooking pages for you to use for all sorts of subjects, ideas, and uses. Using NotebookingPages enables your students to follow their own interests and apply their knowledge to their journaling pages through drawing, coloring, writing, and other creative measures.
Through using NotebookingPages.com's pages, kids are able to receive or pick a subject matter, do their learning and then have some where to record their learning in a fun and stress-free way. They take ownership of their work and enjoy the freedom of being able to express themselves at their own level. These pages make copy work and note taking easier too because it's simplified and based on their interest (unless you assign a subject matter of course). One thing we have loved with this type of schooling is that we can make the application (printable) have more writing pages for those that like to write and more drawing pages for little ones and/or dylesxic spectrum kids.
NoteBookingPages.com has pages on EVERY SUBJECT! Seriously, it would take forever to just sit and look at everything! Good thing their site is searchable! Anyways, they have early learners - highschool pages. Pages on learning the alphabet and hand-writing, pages on composers and music, pages on art, science, and history. They have pages on famous people, nature, blank pages, Bible, character study, etc, etc, etc! They even have lapbooking pages and "3D" pages. For reals, there are just sooooooo many pages!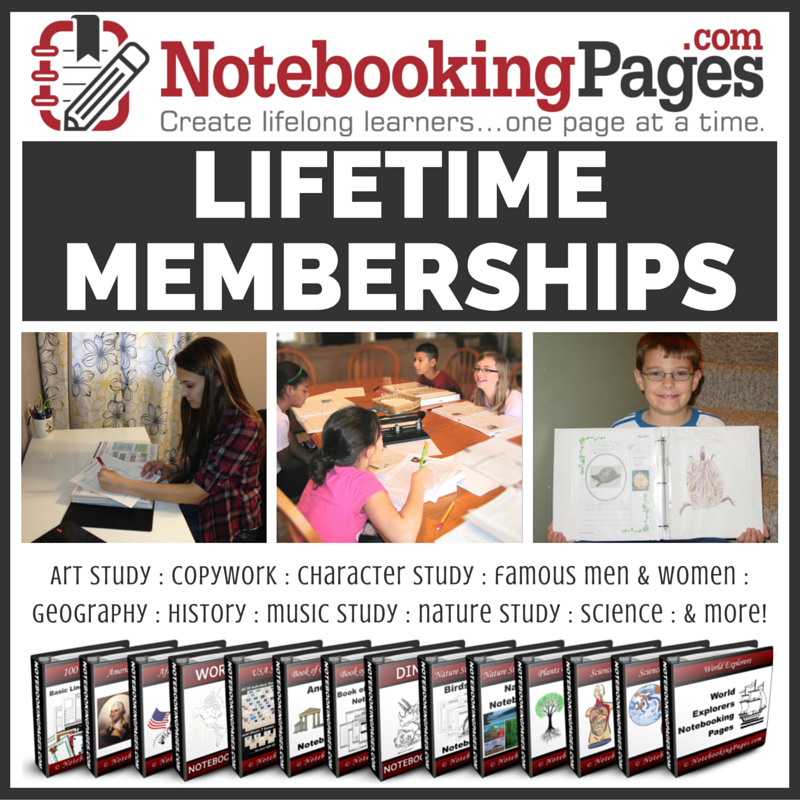 How we used it:
Upon receiving the Lifetime Membership Program (which means FOREVER), they sent me a three-step tutorial that explained how to use their site and implement their pages in within homeschooling. Because we already homeschool in a similar way, the "how-to" wasn't any new information but it was great that they sent it and helpful in navigating their site!
I looked over the site and found some things I thought my 10-15 year old kids may like and asked them to pick. We then downloaded and printed the following:
Johann Sebastian Back (Jo14b, C12b)

Reptiles: Pythons (A10b, J9b, K12b)

Emily Dickenson (H15g, M13g, CH11g)

Nature study: Birds

(H15g, M13g, CH11g)

Bible pages: 7 days of creation (J9b, A10b, K12b)

Memorial Day (all)
Some of our printables had multiple pages and some where just one page (or more if the kids needed more writing room). I had them do their printables and then decide if they wanted them in a 3-ring binder or separate folder. I kinda let them do what they wanted since we ere only trying it out and are at the end of our school year. In the future, I will be more specific with them about making mini books or projects or collecting them for display in specific ways.
M13 doing research and writing
The idea is that you use books, media, internet, whatever, to research your subjects. For most all of our printables we used the internet, got some books at the library, listened to some things online, and watched some youtube videos.
Because this is a familiar system for my kids, they were able to complete these pages without me and in their entirety. This is SO NICE!!!! It was fun watching them do their studying and seeing their end results! My husband was pretty impressed that the older boys chose to spend part of a Saturday doing extra research on Bach! But that is something I LOVE about this kind of learning! It's education and it just becomes a part of everyday life!
The kids all had great things to say. They liked the pages and thought it was pretty neat that there were so many different subjects and things to choose from. Some things they wouldn't have thought about on their own but they saw the title and their curiosity was peeked!
How do you get in on the goodness?
NotebookingPages.com offers a
FREE sample
of over 600 pages so you can try out their site before you buy. I highly recommend trying them out!
If you DO like it, then you can choose between two payment plans for the lifetime membership program. You could make a one-time payment
$97
or you could spread it out over four months (Month 1 $10 and then Month 2-4 is $29).
This makes it highly affordable since you can use the pages with allllllllll of your kids for allllllll of your years- sweet!
Social Media is a great place to find out more!
Follow NotebookingPages on
Facebook
Follow NotebookingPages on
Twitter
And don't forget to check out the other Crew Reviews!