ArtAchieve - Level III (TOS Review Crew)
We love art in our home and are always excited when we get to review art curriculum. This post is about our experience using the

Entire Level III

online art program from

ArtAchieve

.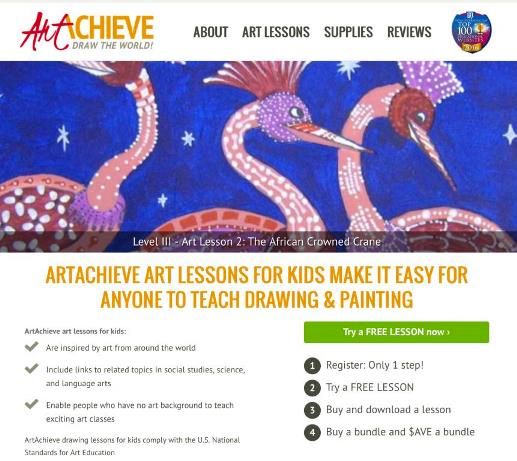 Now, I will say that I was not exactly sure what I was getting. We were offered 3 levels for the review (Although they offer 5 levels) and I couldn't find a clear description of the different levels from their website. I volunteered for Level 3 because it was the highest level offered for the review.
The

Entire Level III

package consists of 12 lessons. They have a good variety (everything from basic drawing to foil work, and painting). Your online membership is good for a full calendar year after purchase which allows you plenty of time to move through your art projects.
The Chinese Horse project!
Each lesson features an art project from a different country, includes some real visuals, links to online videos, drawing rules/warm ups/and clear instruction.
To access your lessons you simply login and click on "view your lessons". This takes you to your lesson que. The lessons can be in any format (usually at least 3) of wither download, online video, power point, etc. Click on what you want, gather supplies and go!
Example of the lesson viewing options
Because all their lessons include animals from different areas, history on them, videos and encouragement to listen to music, it is VERY EASY to build a unit study around these lessons =)
For most of our lessons, we just did the power point option. Most of the Level III lessons said "3rd grade on up" but some were higher. I used this program on ALL 10 of my kids ranging from 6 years old to 16. The older kids quickly figured out this was not their Level but my 6yr old-12yr old kids found it fun and on target!
The two collage pictures here show some snippets of the "African Crowned Crane" lesson from their power point lesson option. We also liked the video option (especially the younger kids) but the power point was easier to navigate with teaching so many at one time. If I was to use this in a co-op setting, I would definitely use the power point!
We did one lesson a week and with it being summer, we made an afternoon of it! If I was to use this throughout the school year, I would prolly split it between 2 days with the lesson and warm up on one and the application on the other.
A10.11 and K12 adding finishing touches to two of their projects.
I loved that the program was easy to use and had good, clear instruction. The lessons were varied, did not require a lot of skill, were concise, and had great end results!
The over-all consensus from the kids was "This is fun!" They approached each lesson with a good attitude. I asked them what they liked the most about it and all of them said about the same things:
easy to understand

interesting subjects

easy to follow

liked the end results
I had my oldest daughter look over the program at length since she is the art expert in our home as well as doing the lessons. Here is what she had to say:
F16 working on the Crane project.
"
ArtAchieve was a very interesting program. I liked the layout, and the idea's used for the tutorials. I felt like it was relatively simple and easy to follow, at the same time being intriguing. I felt like it captured the attention of the audiences to which it was directed.
I did think the "rubbing your hands together and placing them over your eyes" warm up was indeed unnecessary and weird.
I did enjoy the wealth of information that was included in every lesson, talking about the history or interesting components related with the art lesson. Overall, I think that this program is very good for artist who wish to explore different mediums of art and gain some art experience."
E and D creating and 2 finished projects from 2 of the older kids
I thought she summed it up very well! Overall, it was a solid art curriculum that gives good, clear instruction. The online lessons made it easy to use and the website was easy to use. The lesson's themselves gave us a wonderful art experience lesson!
Anyway, I hope you enjoyed seeing some of the things they created. It was definitely a fun curriculum to review for all of us! I also hope that you go and check out the

ArtAchieve

website and social media, and the TOS Crew reviews!