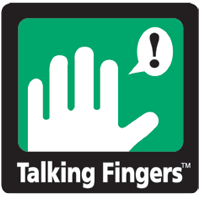 I am ALWAYS interested in programs that are made to help with teaching reading. It's like this little niche' space I am in =)
For this reason, I was fully on board to try out the One Year Subscription for the
Read,Write & Type
program from
TalkingFingers Inc. (The One Year Subscription is good for multiple users and is an online program.)
For our review purposes we were given a One Year online subscription to
Read,Write & Type

, meant for K-3rd graders or 6-9year olds. This is a multi-sensory reading, writing, typing and phonics program. The program uses many different methods in order to teach including: narration and dictation, letter sound connected to letters on the keyboard, reading comprehension, fun graphics, writing prompts and promotions. Interested yet? Here some more key things about them!
Reading software that combines all the different types of learning (audio/visual/kinesthetic)

Combines Phonics, spelling, keyboarding and word processing all at once!

Program made with special features that aide in learning for children with learning disabilities (LD), reading difficulties, or learning English as a second language (ESL)

Built in reading software, assessment and record keeping
Some of the things that really drew me to the program was the fact that it teaches so many different things at once: phonics, reading, typing, comprehension. I also liked that it keeps track of everything so you can view each childs progress
First I logged in and read their user manual. I was pretty overhwlemed and underwhelmed (is that a word?) at the same time. The interface is not very user friendly in the parental control part and although I did figure it out, it, I think it could have been better. It wasn't hard, it was just so "black and white" with small lettering and no clear direction. Once I looked around for a while, I was able to figure it out. The initial webiste is kind of.... dated looking. I would not have given this program a second look by the feeling of the main website and seemingly "not current" presentation.
The program and its interfacing were designed to be used, originally, in a class room setting. I feel like I just kind of stumbled through the set up and then was like "okayyyy…..?" . Even with going in to look at my boys' progress reports, it was very evident that it was made for larger classrooms and the reports feel very... "teachery" (is that even a word?) Anyway, it's not a deal breaker, it's more of a preference.
So, I got each boy set up with a username and password. I did like how you can set what "passing percentage" you want. I think their default was like 75% and I changed it to 90% on my older boys and 80% on my youngers.
Here is a snippet from J9's progress report.

They were very generous and allowed me to register more than one child, so I registered my 5th, 3rd, 1st and Kindergartener in the program. My 5th and 3rd graders are super right brain kids and a bit later in reading than some of my others have been. They are both still using an online based phonics program so I figured this one would be good for them to try too. My first grader is right on target and my kindergartener is just a beginning reader and at grade level too.
My boys all started out using the program 3+ days a week. My kindy boy quickly showed that he was not ready for it. The typing was more than he could do and the lessons are a little more…. Schooly than his other program. So I pulled him off. It was definitely more of a maturity/readiness matter than anything else. My first grader also had some similar bumps. Especially with the typing portion. It just frustrated him. The other/older boys continued on with the program with no problems at all.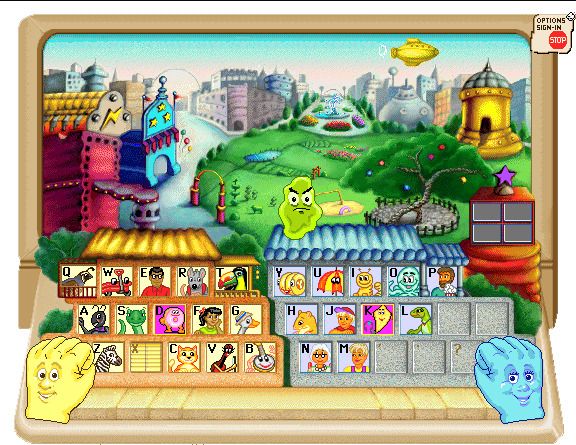 They both seemed to like it and looked forward to using it. There is an opening song. And then the lesson starts. The student moves up through different levels as they complete and master lower ones.
The program has a "video game" feeling to it (…. Well like a 1990's feeling video game). As your child learns the letters on the keyboard, little pictures show up on those keys and the city in the back ground builds up, effectively "unlocking" other things they can do. They are all educational and reinforce the things your child is learning.
A10 sending a creative writing "e-mail"




One of my boys' favorites is the "email" thing. They type up a story/letter/poem/whatever and then they click "send". This sends it to an "email vault" of sorts. Then you can "receive and read an email". They send you a random email from another child from the vault. Reading what other kids are writing has really inspired my boys and they like writing things that they know another child will read. I like that it's SAFE and that there is no identifying information being passed out. They are interacting with other kids but indirectly and not in real time. It IS NOT a "kid chat room" or anything like that.
The video lessons have different characters and presents a story line for the kids to follow. As you learn all the letters, you start to move into phonics, words and spelling all using typing skills.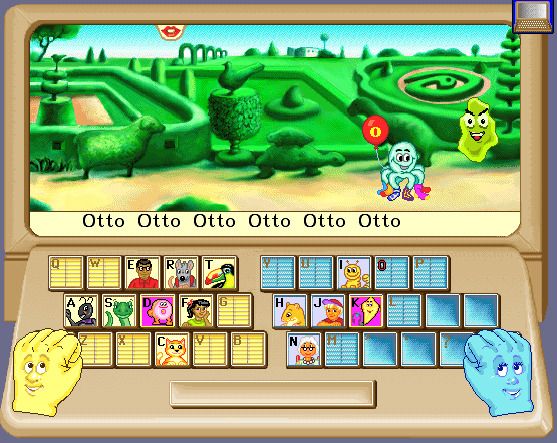 This program and method definitely challenged my older son A10 especially. The program would show him and read him a sentence and then remove it for him to then type on his own. If the student types in something wrong, then the program will have you redo it and remind you of what you need to do to fix it. The "you got it wrong" is very down played and the user just sees it like a reminder of stuff- nothing devastating. But all that info goes in to a report that you can look at to see how they are doing and the program will just keep having the student practice those skills until they reach the set "passing percentage".
There is a lot of repetition and visual/audio aids. Some of it's kinda cheezy and, like I said earlier, 90's video game-ish, but my kids like it! When they pass a lesson they get a certificate that they can print out. Everything is done in a very positive and encouraging way; very non-stressfull.
A10 working on typing and spelling
J9 reading over a poem about a cat he was writing
What my 5th grader thinks:
"I like it. It really helped me with memorizing letters and finding them on the keyboard.
Read,Write & Type
is more about the typing and connecting that with words then other programs I've used. My other online program is more about teaching you to read but
Read,Write & Type
helps more with spelling. I really liked the "email tower" and being able to write your own stories and to read what other kids submitted. I would give this program an 8 out of 10 for being a good learning program."
What my 3rd grader thinks:
"I like it. I like it more than my other program because I like the typing. When I get stuff wrong, it's just wrong and I fix it but that's it. It's helping me to read because I have to make sure the words are right. It's pretty easy to do. I like this a lot."
What I think:
This has been a fun supplement to our other phonics program! There are elements in it that I like a lot better for the older group of kids than our other program, like the typing and the easy going repetition. I did think it was too hard for my little guys to use without me being there and helping them and for that reason I would prefer using something else for them.
For my 3rd-5th grade boys though, I thought it was great! I liked that it used letter sounds, instead of names: example "please type /a/" instead of "type A", as I think that helps with the spelling. The kids learn the sounds, dictate the word, type the word while saying it, and then read those words in reading comprehension games and activities. It seems to be a very systematic program, not very flashy but has fun elements, like the e-mail thing- that incorporates the skills in different ways. It's also great that they tie in the typing and I do not have to get a separate program for that.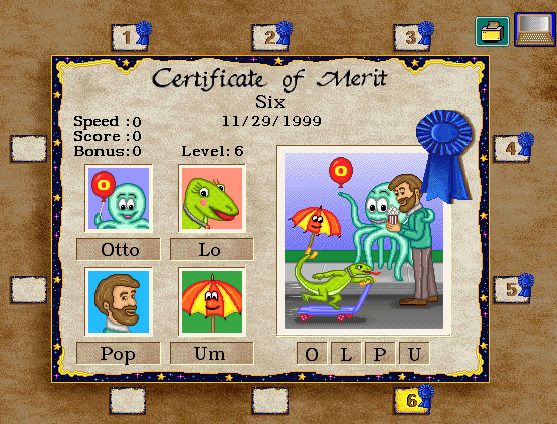 Certificate of merit. You can print these out!
Another thing I liked was that everything is so positive. In the other program we use, the kids are very aware of when they "don't pass" something. With

Read,Write & Type

the kids are oblivious to the pass/fail aspect but the information is processed in the parents progress panel and the kids just keep working on the skills until they level up. So there's not really a "not-pass" option. They just work on it and then they pass. My older boys were excited everytime they got to use the program and we will continue! We have all been very happy with Read, Write & Type and plan to continue using it!