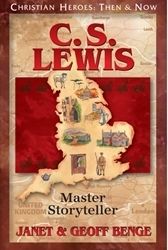 ________________ YWAM Publishing______________
We love books by C.S.Lewis, so it was exciting to be able to delve further into who he actually was. CHRISTIAN HEROES: THEN & NOW C.S.LEWIS: Master Storyteller is a great book to get to know the author in an easy to read format (recommended for ages 10+). The book allows you to get to know things about Lewis's life such as:
·
What was his upbringing?
·
What was his family like?
·
Who he was outside of being an author.
·
The major world events going on at that time.
·
His inspiration for his writings.
·
How Narnia came to fruition.
·
Other writings by Lewis.
Why is this important? Knowing who the author is gives you a better understanding of their writings. More so, it gives you the testimony of a great Christian!
Along with the book, we got the Digital Unit Study to go along with this book. Now, before you get overwhelmed, this is a really easy going study! It can be worked to fit your own educational needs and is more like …. A study map than a "fill in the blank" guide.
LET ME TELL YA' HOW WE USED IT =)
I opened my digital download. (Note to the wise: unzip your download before you try to open it or it won't work. Just say'n). Anyway, I opened it up, it connected to the web and brought me to the unit study page and I clicked on "Classroom &
Home". I read through the 12 page information packet. I then went back to the main menu and read the "Unit Study: Part 1" guide that was specific to the book we read. There is also a "Unit Study: Part 2" but it is just some additional printables.
Here are my thoughts:
1.

The initial packet covers how to use these books and study guides for everything from small groups, homeschooling, to individual learning for ALL THE CHRISTIAN HERO BOOKS. It was easy to read and understand. (There is a separate little packet that is specific to your study).

2.

I liked that it gave sample schedules, ideas on how to use it, and even talked about how to do it for different skill level learners at one time.




Snippet of their advice on working with varying ability students at one time.





3.

It had a break-down of all the books and their time periods and geographical location. They had another break-down that listed the books by geographical region first and then the time periods as well. This would make it VERY EASY to know which books you needed to read to study different things. Well done YWAM!

Snippet of The Biographies

Snippet of them organized by location

4.

Within the study guide, it spoke of different learning styles and the different things you can do to be able to make the study meaningful for each student and how they learned. That was refreshing to read!

5.

They encouraged flexibility in order for you to get what you need our of the guide. I LOVED THIS! I could make this a major thing or I could pare down and use it as it fit. This is why I called it a "map" early. It gives all the fine points but in an easy going way so that it's flexible.

6.

It has a wonderful variety of learning ideas!
Many of the learning idea's found in this Unit Study Guide fell into these categories:
H14 Working on a poetry assignment. She was asked to write a
poem as though

she were a soldier in either WW1 or WW2.
·
Writing activities
After reviewing all the info and talking with my kids, it was decided that my daughter H14g was going to read the book and do the study. We will probably do it as a family next year but for this year and this time period, it was H14 or bust.
H14g's snippet of some of the study questions
H14 is an avid reader and history buff. She was excited to do the study even though she was older than it's intended age group. The book was an easy read for her but still very interesting. H14 is an audio learner and a writer so we focused her study time into those areas.
Instead of starting a new folder for her C.S. Lewis studies, she used her 12 subject Portfolio book instead. Everything she did within the study guide had a section it could go into in her 12 subject Portfolio. This worked well for us!
·

~
Creative writing assignments
·

~
Chapter study questions
·

~
Media (online documentaries and movies)
·

~
Oral presentation/performance
·

~
Bible verse memorization
·

~
"Inkling" project (poetry group)
"I really liked the book. I enjoyed all of the interesting facts and information that I never knew about C.S Lewis. I wouldn't consider this book "school", instead it would be a pleasure book for me.

The curriculum was cool too, and I liked a lot of the creative writing activities that went with it. I thought the study guide questions were good ones and made me reflect a lot, both on C.S. Lewis and myself. There were a lot of different type of activities to choose from. I think if you wanted to do all of them you should give yourself a good amount of time to do them. At first, I had planned to do more but then I felt like I was rushing through things in order to try and cram it all in. (I read the whole book but only did about half of the total chapter activities). I think I would have liked doing 1 chapter a week with additional learning activities if I was going to do all of the suggested learning applications.
One of the poems H14g wrote, plus a pic of her doing an
oral presentation and reading
One of my favorite things that I did within this study was starting an "Inkling group". This is a group of friends who are writers who influence each other in their writings by meeting together to write, share, critique, and encourage. One of the additional activities was to start your own. I did this but just called it "Poetry Club". Several of my friends and I each write something in a spiral bound notebook for one week, then, on Fridays, we rotate the notebooks. We then have a week to read what others have written, write them notes, critique and encourage, and then add to the book with our own writings. Once a month we get together to discuss everything and drink tea. "
The more I read for myself and saw H14 reading and doing, the more I wished all my kids were participating! She and I had some GREAT discussions on C.S. Lewis and enjoyed getting to know him together. The other children really enjoyed everything that H14g shared with them as well.
The questions and activities in the study guide really made her think deeply, plus many of the activities connected her as a young writer to C.S. Lewis. We both enjoyed a lot of the fun, random information in the book too, like, learning about the friendship between Lewis and Tolkien.
Writing again!
I also loved seeing H14 enjoying the creative writing projects. She often did more than she needed too. If they said to write one poem, she wrote 5. If they ask for a creative short story, she wrote 2. H14 loves to write. Anything from essay's to short stories and poems. She also loves history so being told to write about history was a major plus for her.
She combine a lot of things with art too. Many of the memory verses were written in her portfolio and/or creatively made into posters for our walls.
It was great seeing her enjoying the activities and being inspired by them.
I was also impressed with how well rounded the Study Guide is. In the beginning I thought it was just going to be more like chapter review stuff (boring). I was greatly surprised when I read the guide and saw all the different ideas and options! I was even more impressed when I saw them begin to take shape while H14 was doing the study!
I am now seriously looking at how I might use these books and companion guides next year. YWAM Publishing has many other books and unit study curriculum guides available and I know they would be a great addition to our homeschooling!
Website:
www.ywampublishing.com
Facebook
:
http://on.fb.me/o9VOMN
Twitter:
@YWAMpublishing
http://twitter.com/YWAMpublishing
@YWAMpublishing
Pinterest:
http://www.pinterest.com/YWAMpublishing
The YWAM Publishing Blog:
www.ywampublishingblog.com
THANK YOU for stopping by and reading my blog! Click on the link below to read other blog posts from The Old Schoolhouse Magazine, Schoolhouse Review Crew: